About Irina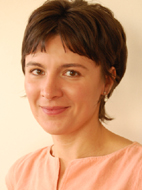 I have been practicing yoga for more than 15 years. It has helped me in my life in so many ways: it
healed my back, improved my posture and breathing and made me calmer and more centred.
In a way yoga practice feels like coming back home, into a place of calmness and peace within me.
At the same time yoga allowed me to experience a greater sense of connection to the outside world:
nature and people.
In 2009 I completed my Yoga Teacher Training with Unity School of Yoga in Brighton.
My teaching approach has been influenced by Vanda Scaravelly and Donna Farhi
as well as the Shivananda and Integral Yoga traditions.
I am a member of Embody and am fully insured to teach Yoga by The Complementary Therapists Association.
I also hold a First Aid Certificate.