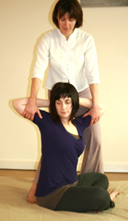 Thai Yoga massage can really enhance your yoga practice. It has been
called 'lazy man's yoga' and is a fast track to undoing tension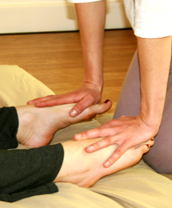 and improving flexibility.
I was introduced to this amazing bodywork in Thailand in 2003. After just a few treatments I experienced
an amazing lightness in my whole body. My joints felt more open and free moving and my spine became
more aligned.
The tension in my muscles dissolved with the skillful touch of the therapist. I felt like I had grown a few inches
taller and had a feeling that I was walking on the Moon! So light and effortless my movement became.
I was inspired to learn this ancient form of massage, so I could offer people in the West the chance to benefit from its profound healing power. I have studied extensively in Thailand and the UK and now run a busy practice in Brighton.
I love seeing people becoming happier, with a greater sense of wellbeing after treatment and enjoy bringing positive change to their lives.
I believe that everyone can benefit from this form of massage, to improve and maintain their physical, mental and
emotional health.
You can find more about my Thai Yoga massage practice at  www.brightonthaimassage.co.uk