Parent and child Yoga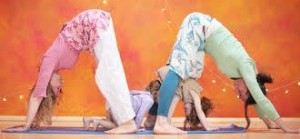 Monday         1.30pm – 2.30pm        The Barn  All Saints Church , Church Hill , Patcham, Brighton BN1 8YE
*This class is not running at present. Please contact Irina for more information*
This class is open to mothers, fathers, grandparents, child carers and of course children (from mobility to pre-school age).
Mothers with babies may also be considered. Siblings are welcome.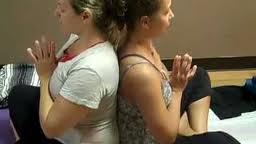 It will provide a welcome break, time to relax and unwind in a safe and supportive
environment. It's an opportunity to stretch and release pain in the back, arms and
shoulders. Little ones can join in or play alongside.
A selection of toys is provided although children can bring their favourite toys with them.
Gentle stretches with the use of certain props will help to release pain, relax tight
muscles and bring the left and right side of the body into balance.
Deep abdominal breathing will help to dissolve stress and emotional and mental tension.
You can do some postures with your child – you may find that they copy you anyway.
It's a nice and fun way to interact with you child and helps them to develop co-ordination and
strengthen their muscles.
I also like to use 'partner yoga' during the class, when class participants help each other to go deeper into a posture.
During some classes I will demonstrate self massage and peer massage techniques.
At the end of the session you will feel more relaxed and rejuvenated.
What parents say
I really look forward to my weekly Yoga class. It allows me to centre and find inner peace,
even for a short time.        Jane, Brighton

Yoga helps me to relax my tight back and release pain in my arms.      Claire,  Brighton

My daughter has learnt how to massage my shoulders during the class and now she
does it for me at home.      Maria,  Hove
                                                                                   Payments
Y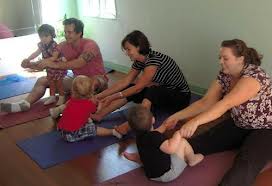 ou have an option to pay for blocks of 4 classes – £28 or 6 classes – £42
You can also come along and try these classes as a drop-in for the first two classes – £8 a class.
If you wish to stop attending Yoga classes you can do so at the end of any of the blocks.
Your advance notice will be appreciated.
What to bring
I have a number of yoga mats and blankets available. You can bring your own mat if you prefer. You can also bring an extra blanket and socks to make yourself more comfortable during the relaxation.
I have a range of toys and activities for children of various ages. You are welcome to bring your child's toys.
There is a baby changing facility in the toilet and I usually bring a potty with cleansing wipes.
Snacking, feeding your baby or a child during the yoga class
If your little one needs a drink or a snack you are welcome to attend them. There is a small kitchen at the Barn
with a tap and a kettle.
The yoga classes are for parents to participate as much as possible and of course, if your child's needs are met they
are likely to be happy, and play and interact with other children or do some yoga postures with you.
Parking, directions and buggy access
Parking is free on Vale ave,  just a couple of minutes walk from the Barn. Park on the top of the hill opposite
the allotments, then walk across Vale ave towards the allotments. There is a short driveway towards the back gate
to the Church yard on the right hand side. Go through this gate and you will see the entrance to the Barn on the right.
You may also find some street parking on Church Hill. If walking from Church Hill go around All Saints church on
the right hand side then follow through the church graveyard. You will see the Barn on the left. Take a paved path leading
to the Barn entrance.
The Barn has disabled access so it's very easy to get in with a buggy.
There is plenty of space inside for the buggies. Some parents come on a bicycle with a child seat.
You can leave your bike outside or bring it inside the Barn.
Travelling by bus
Bus No. 5A stops on Old London Rd by the Co-op supermarket. Here is a route map. From there its
approximately 6 mins walk to the Barn.
Bus No. 5 stops on Makie ave near the Clock tower. Here is a route map. From there its approximately
6-10mins walk to the Barn. You need to walk up Vale ave and turn left at the top of the hill towards
the allotments. There is a back gate to the Barn on the right hand side.
If you have any questions please do not hesitate to contact Irina.
If you would like to start Parent and Child Yoga classes please contact Irina via the phone or e-mail to ensure
that there is a space for you an your child and the class is running that week.
Hope to see you soon!